Introduction
In the early 21st century there were several worldwide shocking incidents which triggered more social focus on the topic of "Risk and Crisis Management". Right under this background, Asia Association of Risk and Crisis Management (AARCM) took shape. AARCM was officially founded in 2003. The directors and the members of AARCM come from more than ten countries in the world. AARCM currently is chaired by the renowned expert in financial risk management, Mr. Louis Leung, who was one out of five outstanding accountants of Hong Kong in 2003 and the former chairman of Distinguished Citizens Society International.
AARCM, a non-profit organization, is dedicated to protecting human being, to serving the society, to helping enterprises by providing assistance of "lowering the level of risk and dissolve crisis". Based upon the background trend of "Integrated Risk Management" in the 21st century, AARCM fully promotes the modern concepts and techniques of "Risk and Crisis Management" in the world, particularly in the large-population region of Asia. The image of social responsibility of AARCM becomes well recognized by the world. Therefore, AARCM is able to get supported by many well-known organizations in the world, as well as supported by certain governments in Asia.
In the world AARCM was the first professional organization to place its mission on the theme of "Integrated Enterprise Risk Management", the first professional organization to publish "The Occupational Standard of Risk Manager", and the first professional organization to establish ERM-based professional training and examination system.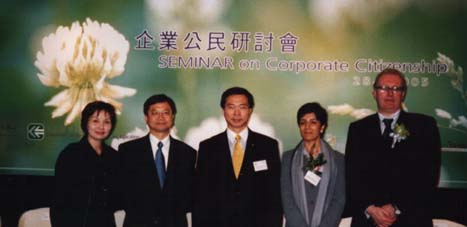 Advocating Taking Social Responsibility
Rising the Awareness of Risk Management Concepts